Basel Seminar (Spring)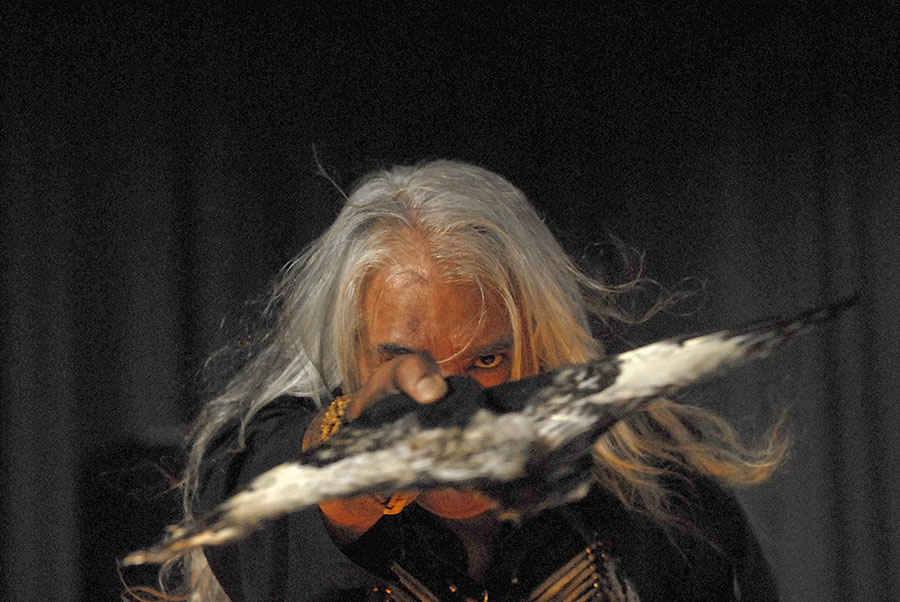 Emahó's teachings show it is possible to live in, to see through and to speak from the heart.  That it is possible to break the code of conditioning and discover the reality of life as a spirited human being. His warm and beautiful teachings can take the form of lectures, one-to-one contacts, ceremonies, silence, and prayer.
Seminar fees:
https://emahospeaks.co/seminar-fees/
Times:
Thursday 26th March – 4.00pm
Friday 27th March – 1.00pm
Saturday 28th March – 1.00pm
Sunday 29th March – 1.00pm
More Information About Coordinators:
https://emahospeaks.co/coordinators/
TRANSPORT:
By Train: by tram n. 10 from Basel main station direction Dornach till the stop "Hofmatt" (costs: from the main station: CHF 3.20/ € 2.80 one way) and from airport CHF 5.30/ € 4.70 
By car: Highway Délémont – exit Münchenstein – after 100m right – take the leftlign direction Alersheim and then follow the tram for approx 1,5 km until the sign KUSPO after Hotel Hofmatt to your right.
Accommodation:
HOTELS SWITZERLAND BASEL (0041 (0)61): ca. CHF Preise
Münchenstein
Hotel Hofmatt close to Kuspo – Bruckfeld, Tel 416 08 48 double 170-175 CHF single 110-115 CHF 
Dornarch
Begegnungszentrum Sonnhaldeweg 1 Tel: 706 42 82 (10-12 + 18-19 Uhr) double 90 CHF, single 50-60 CHF no breakfast
Haus Friedwart Begegnungszentrum Lärchenweg 11 Tel: 706 42 82 (10-12 + 18-19 Uhr) double 100-150 CHF, single 70-90 CHF with breakfast
Kloster Dornach Tel 701 12 72 double 110
New Price Kloster Dornach:
SINGLE ROOM from CHF 77.00, with breakfast from CHF 87.00, with extra bed from CHF 122.00
DOUBLE ROOM from CHF 112.00, with breakfast from CHF 132.00,
FOURTH BEDROOM from CHF 195.00, with breakfast from CHF 225.00
Hotel Ochsen Tel 701 41 01 Fax: 701 92 42 double 145 CHF single 95 CHF 
Hotel JuraTel 706 98 00 Fax: 706 98 19 double 140 CHF single 70-90 CHF 3 beds 180 CHF
San Pedro Hotel, Tel 702 24 04 double 115 CHF single 60 CHF 
Arlesheim
B&B Casa Romantica Rüttiweg 8 Tel/Fax: 701 20 53 fax: 701 20 53 double 100-130 CHF single 60-75 CHF
Gasthaus Stärne,-tel. 701 99 52, single CHF 65, double CHF – 110, without breakfast single 55, double 90, info@werkstar.ch
Ausbildungszentrum Arlesheim, Tel. 0041 58 285 20 10 barbara.fankhauser@baloise.ch, www.baloise.ch, EZ from CHF 85, DZ from CHF 130
haus arlesheim, Hirslandweg 28, Tel. 0041 61 702 09 87, Mobile: 0041 78 806 80 76 haus-arlesheim@intergga.ch, EZ CHF 70, DZ CHF 120 with breakfast
Hotel Eremitage, tel. 701 54 20, rooms from CHF 110
B&B Agentur Tel: 702 21 51 Single from 65 CHF Double from 115 CHF
Basel
EasyHotel Basel Riehenring 109 www.easyhotel.com – info@easyhotelbasel.ch 
YMCA Hostel Basel  (0)61 361 73 09 Gempenstrasse 64 info@ymcahostelbasel.ch www.ymcahostelbasel.ch
Jugendherberge Basel  (0)61 272 05 72  basel@youthhostel.ch St. Alban-Kirchrain 10  neu renoviert  – new renovated
Basel's backpacker Dornachestr. 192 4053 Basel Tel:333 00 37 www.baselbackpack.ch info@baselbackpack.com
Ibis-Hotel Basel or Mulhouse/ Close to Basel
Reinach 
Camping Waldhort Tel: 711 64 29
Hotel Gempenblick, Bodenmattstr. 1-5  (0)61 715 90 20 info@gempenblick.ch 
Hotel Rynach, Brunnengasse 3 (0)61 712 11 22, rooms from 120, info@hotelrynach.ch 
Information: Basel Tourismus tel: 268 68 68 http://www.baseltourismus.ch – info@baseltourismus.ch